Corenza Para-C Effervescent cold and flu tablets.
For the symptomatic treatment and relief of:

NASAL CONGESTION

FEVER

MODERATE PAIN
Drag over the image to rotate 360°.

Dosage and Directions for Use:
Adults and children over 12 years: One tablet dissolved in a glass of water 3 to 4 times a day
Storage instructions:
Store below 25°C. Protect from light and moisture.
Keep out of reach of children.
Each effervescent tablet contains:
Phenylephrine HCI  – 10mg
Paracetamol – 650mg
Vitaman C – 250mg
Sugar Free
Presentation: Tube of 10 tablets.
Do not use continuously for more than 10 days without consulting a doctor.
Adcock Ingram Limited
Reg. No./Regnr.: A 29/5.8/0657
Each tube contains 10 effervescent tablets. Drag the scroller to see what is in the box.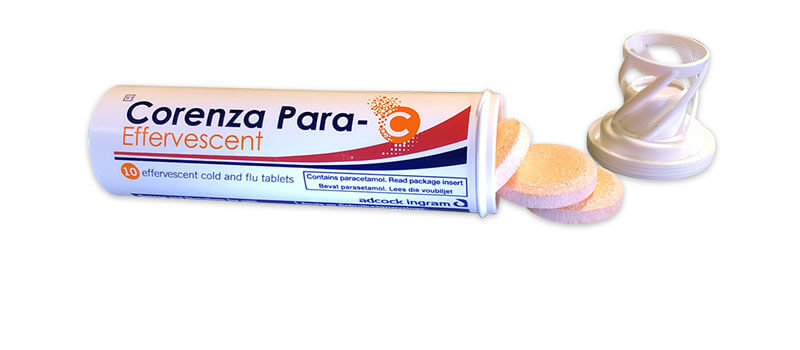 Read more about Corenza Para-C
SCHEDULING STATUS: [S1] PROPRIETARY NAME: CORENZA PARA-C EFFERVESCENT (AND DOSAGE FORM) (EFFERVESCENT TABLETS)
COMPOSITION: Each tablet contains: Paracetamol 650 mg, Phenylephrine HCl 10 mg, Vitamin C 250 mg. Sugar free
PHARMACOLOGICAL CLASSIFICATION: A 5.8 Preparations for the common cold including nasal decongestants and antihistaminics.
PHARMACOLOGICAL ACTION: CORENZA PARA-C EFFERVESCENT tablets have analgesic, antipyretic and decongestant actions.
INDICATIONS: For relief of mild to moderate pain, fever, nasal sinus and Eustachian tube mucal congestion associated with colds and influenza.
CONTRAINDICATIONS: Hypersensitivity to any of the ingredients. Severe liver function impairment. Patients receiving monoamine oxidase inhibitor treatment, or within 14 days of its termination. Safety in pregnancy and lactation has not been established. Do not use in children under the age of 12 years.
WARNINGS: Do not use continuously for more than 10 days without consulting your doctor. Patients suffering from liver or kidney disease should take paracetamol-containing preparations under medical supervision. Dosages in excess of those recommended may cause severe liver damage. Should be used with caution in patients with hyperthyroidism; cardiovascular disease such as ischaemic heart disease, arrhythmia or tachycardia; occlusive vascular disorders, including arteriosclerosis, hypertension or aneurysms; diabetes mellitus; closed-angle glaucoma and prostatic enlargement.
Do not use this product without consulting a doctor or pharmacist if you are presently taking monoamine oxidase inhibitors or other medicines for depression, psychiatric or emotional conditions or hypertension.
DOSAGE AND DIRECTIONS FOR USE: Adults and children over 12 years: One tablet dissolved in a glass of water 3 to 4 times a day.
SIDE EFFECTS AND SPECIAL PRECAUTIONS:
Paracetamol: Haematological reactions including thrombocytopenia, leucopenia, pancytopenia, neutropenia and agranulocytosis have been reported. Pancreatitis, skin rashes and other allergic reactions occur less frequently. The rash is usually erythematous or urticarial but sometimes more serious and may be accompanied by fever and mucosal lesions.
Phenylephrine: Central nervous system: Fear, anxiety, restlessness, tremor, insomnia, confusion, irritability, weakness and psychotic states. Appetite may be reduced and nausea and vomiting may occur.
Cardiovascular system: Vasoconstriction with resultant hypertension. The rise in blood pressure may produce cerebral haemorrhage and pulmonary oedema. There may also be a reflex bradycardia, but stimulation of β1-adrenergic receptors of the heart may produce tachycardia and cardiac arrhythmias, anginal pain, palpitations and cardiac arrest. Hypotension with dizziness, fainting and flushing may occur. Anginal pain may be precipitated in patients with angina pectoris.
Other Effects: May include difficulty in micturition and urinary retention, weakness, dyspnoea, altered metabolism, including disturbances of glucose metabolism, sweating and hypersalivation. Headache is also common. Should be avoided or used with caution in patients undergoing anaesthesia with cyclopropane, halothane or other halogenated anaesthetics as they may induce ventricular fibrillation. An increased risk of arrhythmias may occur if given to patients receiving cardiac glycosides, quinidine or tricyclic antidepressants.
INTERACTIONS: Reversal of the action of antihypertensive agents may occur and therefore special care is advisable in patients receiving antihypertensive therapy. Interaction with alpha- and beta-blocking drugs may be complex. Interactions possible with guanethidine, reserpine, tricyclic antidepressants, digoxin and alpha-methyldopa. Aluminium hydroxide mixture may increase the absorption rate of phenylephrine.
KNOWN SYMPTOMS OF OVERDOSAGE AND PARTICULARS OF ITS TREATMENT:
In the event of overdosage or suspected overdose and notwithstanding the fact that the person may be asymptomatic, the nearest doctor, hospital or poison control centre must be contacted immediately.
Paracetamol: Symptoms of paracetamol overdosage in the first 24 hours are pallor, nausea, vomiting, anorexia and abdominal pain. Liver damage may become apparent 12 to 48 hours after ingestion. Abnormalities of glucose metabolism and metabolic acidosis may occur. Acute renal failure with acute tubular necrosis may develop even in the absence of severe liver damage. Cardiac arrhythmias have been reported.
Symptoms during the first 2 days of acute poisoning do not reflect the potential seriousness of the overdosage. Nausea, vomiting, anorexia and abdominal pain may persist for a week or more. Liver injury may become manifest on the second day, (or later) initially by elevation of serum transaminase and lactic dehydrogenase activity, increased serum bilirubin concentration and prolongation of prothrombin time. The liver damage may progress to encephalopathy, coma and death. Cerebral oedema and non-specific myocardial depression have also occurred. In the event of overdosage consult your doctor or take the patient to the nearest hospital immediately. Specialised treatment is essential as soon as possible. Prompt treatment is essential. Any patient
who has ingested 7,5 g of paracetamol in the preceding 4 hours should undergo gastric lavage. Specific therapy with an antidote such as acetylcysteine or methionine may be necessary. If decided upon, acetylcysteine should be administered IV as soon as possible.
Acetylcysteine: Acetylcysteine should be administered as soon as possible, preferably within 8 hours of overdosage.
IV: An initial dose of 150 mg/kg in 200 ml dextrose injection, given intravenously over 15 minutes, followed by an intravenous infusion of 50 mg/kg in 500 ml of dekstrose injection over the next 4 hours and then 100 mg/kg in 1 000 ml over the next 16 hours. The volume of intravenous fluids should be modified for children.
Orally: 140 mg/kg as a 5 % solution initially, followed by a 70 mg/kg solution every 4 hours for 17 doses. Acetylcysteine is effective if administered within 8 hours of overdosage.
Phenylephrine Hydrochloride: Overdosage with the phenylephrine component will result in the excessive stimulation of the central nervous system causing an increase in the severity of the CNS side effects mentioned. Treatment is symptomatic and supportive.
Vitamin C: Large doses are reported to cause diarrhoea and other gastrointestinal disturbances, hyperoxaluria and tolerance may be induced. Large doses can also cause formation of kidney stones. Treatment is symptomatic and supportive.
IDENTIFICATION: Orange, mottled, round effervescent tablet. After effervescence: Clear, orange solution with a citrus odour.
PRESENTATION: Tubes of 10 tablets.
STORAGE INSTRUCTIONS: Store below 25 °C. Protect from light and moisture.
KEEP OUT OF REACH OF CHILDREN.
REGISTRATION NUMBER: 29/5.8/0657
NAME AND BUSINESS ADDRESS OF THE HOLDER OF THE CERTIFICATE OF REGISTRATION:
Adcock Ingram Limited
1 New Road
Erand Gardens
Midrand, 1685
Private Bag X69
Bryanston, 2021
www.adcock.com